Heat. It's a great thing – it warms our offices, cooks our dinners, makes our seaside vacations worth vacationing.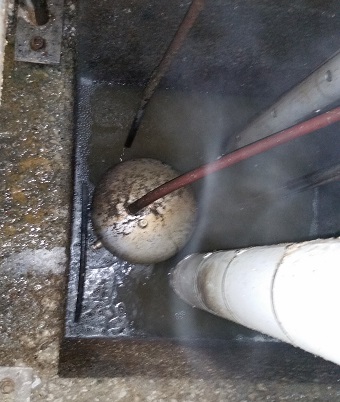 But heat – especially high heat – isn't everyone's best friend, particularly when it comes to sump pumps. High temperatures come into play during events like boiler blowdowns, condensate dumps or hot water rinses when large amounts of near-boiling point water are sent to sumps.
While blowdowns and rinses are a necessary part of industrial operations, they aren't necessarily good for all downstream components.
The motors on electric centrifugal sump pumps are particularly sensitive to this heat. They depend on being able to cool themselves by being surrounded in a lower temperature fluid.  When that fluid is actually even hotter the thermal protectors in the motors trip in order to prevent major damage.  But now the pump is 'down' leading to a whole new set of problems like flooding or the need to send staff down to re-start the pumps.
Another 'hot' issue that can be quite destructive is the cavitation that easily occurs when pumping high temperature water.  This is a problem not just for submersible pumps but vertical and horizontal centrifugal pump configurations as well.  Once water is close to boiling, a small drop in pressure can cause it to flash into steam.  As hot water enters a centrifugal pump the pressure drops and can cause vapor bubbles to form that then collapse at high velocity on the pump impeller.  When standing by a cavitating pump it sounds as if gravel is running through it and destructive erosive wear is the result.
And sometimes the issues can be smaller but still annoying like a leaking mechanical seal on a condensate return pump dribbling to the floor.
This would be a good time to mention that an air-operated Pitbull pump has no motor to cool, no mechanical seal to leak and does not create cavitation or even have an impeller to be damaged from it.
Our type of pump becomes such a straight forward, logical solution by eliminating the cause of these problems versus treating the symptoms.
If you're tired of dealing with the effects of high heat or other recurring problems with your electric centrifugal pumps, give us a call. Our technical staff would be glad to review your situation with you and develop a long-term solution.
Posted by Madelyn Vetter
On September 25, 2017